Just in the north/northeast zone of Raleigh is Wake Forest, the largest city in North Carolina. If we had to describe this place in three words, it would be welcoming, historic, and vibrant.
Large and small families prefer this city as the perfect place to settle and spend the rest of their lives because of its amenities, entertainment activities, attractions, and natural landscapes.
One of the biggest challenges for first-time home buyers is deciding which is the best place to move, and Wake Forest is always among the items to check on the list. But is Wake Forest a good place to live?
If you are looking for the home of your dreams where you can sit peacefully for a cup of coffee every morning, Wake Forest might be the right place.
Through this article, we'll help you teleport on tour to the heart of North Carolina to know its history, amenities, and why it's considered one of the places with the best quality of life.
The History of Wake Forest
The origin of Wake Forest dates back to 1832 when Dr. Calvin Jones, from New England, was looking for a place to live and establish his business. 
The land was first available for settlement in 1827, and the initial settlers were largely farmers. In 1832, Dr. Jones sold a 615-acre property to the North Carolina Baptist Convention, which intended to create Wake Forest Institute, an educational institution for pastors.
The institute is now known as Wake Forest University and is located only a few miles from the historic downtown area.
Wake Forest Institute opened in February 1834 and is considered one of the oldest educational centers in the United States. 
With the exponential growth of the institute's education, so did the population in the area. Over the years, many Americans moved to Wake Forest for its culture, education, and job opportunities.
What Is Wake Forest, NC, Known For?
The Home of Wake Forest University
Modern-day Wake Forest is often considered one of the best locations in North Carolina due to its small-town appeal. The city is one of the safest in the United States, with great schools and excellent attractions for many seniors and families.
Wake Forest is also known for its historic downtown area, with plenty of locally-owned businesses along South White Street.
Here you can enjoy seasonal festivities, Saturday morning farmers' markets, unique shops, and delicious restaurants in an ideal place for nature lovers. With more than 35 local parks, you can find plenty of trails, boardwalks, playgrounds, and picnic areas to explore.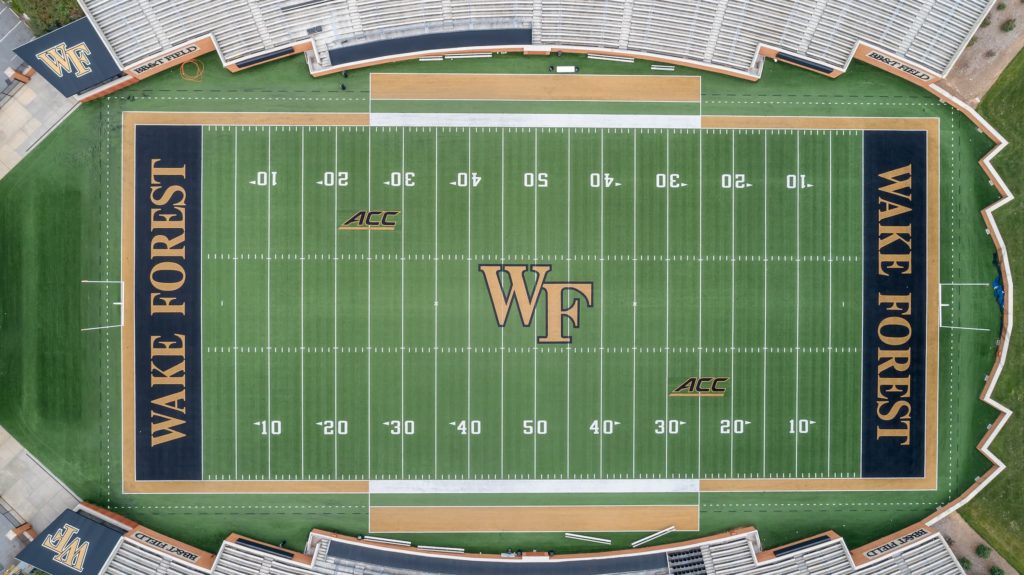 The area is also home to several universities, including Wake Forest University. This is the city's most important asset, as it is a major contributor to the growth of the local economy and provides many job opportunities.
Demography is also an excellent aspect of Wake Forest because the population is diverse, with people from all backgrounds living together harmoniously and creating a unique culture.
An additional claim to fame for the city is that it is the home of Wake Forest University Demon Deacons, one of the most successful sports teams in all of North Carolina. The community is very supportive of the team, and many events centering around them are held in town.
Is Wake Forest a Good Place to Live?
The different amenities we mentioned perfectly describe why this city is a top choice. However, not all new home buyers have the same necessities and style, but there are certain assets that everyone should consider as the basic guide.
When looking for a new home, you should carefully consider the following details:
Great Location
Geographically, it is important to be aware of the availability of stores, schools, hospitals, and places for entertainment. Wake Forest is easy to connect with any neighborhood and is surrounded by nature and beautiful trails.
Weather
The temperature is usually warm throughout the year and is known for having a mild climate year-round.
If you want to enjoy all of the seasons but none too harshly, Wake Forest is the place to be. On average, there are 214 sunny days per year in Wake Forest.
Is Wake Forest Safe?
Regarding safety, it is important to be aware of the crime rate and evaluate if it is safe during nighttime. According to statistics, Wake Forest is one of the safest cities in North Carolina.
Living in Wake Forest offers residents a sparse suburban feel, and most own their homes. There are few crimes, especially when compared to more urban cities.
Jobs
From kindergarten through graduate school, Wake Forest's nearby area is home to some of the top schools in the nation.
Wake Forest Elementary, Middle, and High School are all recognized as top public schools. Of course, there are plenty of private options, like Thales Academy.
The area is near Wake Forest University, Duke University, University of North Carolina (UNC), and more for older students.
And since it is home to Wake Forest University is a great place for job opportunities as many businesses are also opened near the city.
Cost of Living
The cost of living is on average with the national rate, making it one of the most affordable cities in North Carolina.
Housing
The city is full of beautiful neighborhoods and is known for its new construction homes offering an active real estate industry, which takes us to the next part of our article. 
You have many options when it comes to where you want to live. Whether you're a first-time home buyer looking to put down roots, a growing and thriving family whose main focus is your children, or a retiree who wants to spend their golden years in the perfect place, we strongly recommend you consider Wake Forest.
Where to Live in Wake Forest
North Carolina is one of the best states to live in, and Wake Forest is one of the best places to live in North Carolina. The only thing left to do is find the right neighborhood.
When you look at Holding Village, we know you will already feel at home!
Our homes are designed and crafted by some of the Wake Forest area's top builders, including Drees Homes, John Wieland Homes and Neighborhoods, and Ashton Woods.
If you examine our community's map, one thing will quickly stand out: the abundance of green space! Our community is replete with parks, water, and green space. We want to show you all that Wake Forest and Holding Village have to offer.
You can reach us Monday through Friday, 9 am to 5 pm, though how we communicate with you may vary by contractor.