Are you looking for new homes for sale north of Raleigh, NC? Then consider traveling just a bit more to the north to the charming community of Wake Forest. There, you can discover a brand-new subdivision with luxury amenities and homes waiting for you. That community is Holding Village.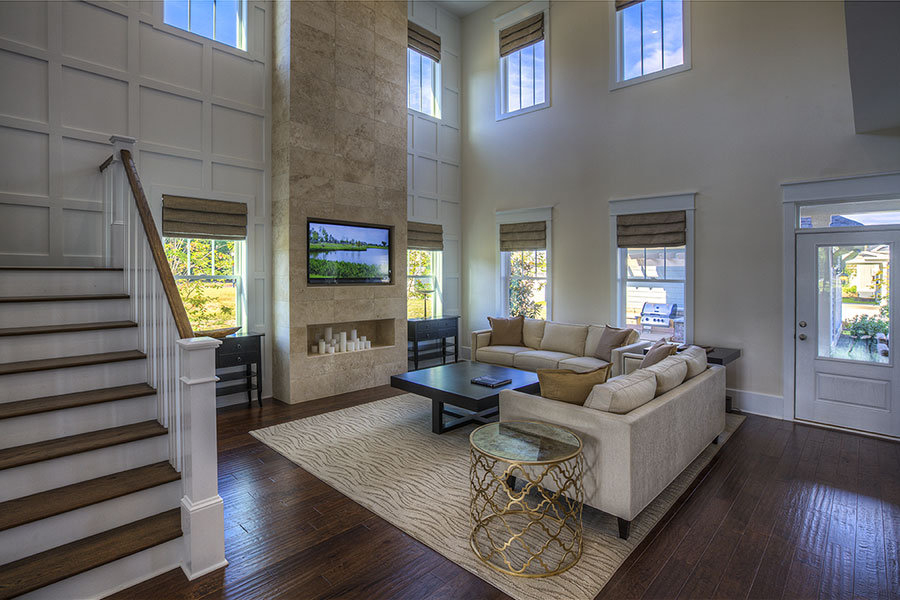 Situated on the site of a former dairy farm, Holding Village is a place where kids can grow up playing outside, catching fish in the lake, and various other outdoor activities. Yet it is also a place where luxury has not been overlooked. From the spacious, comfortable homes, to the technology built into the very fiber of the neighborhoods, everything about these North Raleigh homes for sale exudes luxury.
Amenities to Make Life Comfortable and Enjoyable
The luxury of Holding Village starts with its amenities. Whether you are enjoying the lake with its docks on the weekend or relax in the evening around the community pool, you will have plenty of amenities within the community to make you comfortable. Natural play areas teach kids to love the outdoors, while comfortable lakeside seating keeps neighbors connected as they build friendships and foster a sense of community. Add in nature trails, parks and a pet run, and you have a community that puts everything you need at your finger tips.
Yet this down-home luxury is just one aspect of life in Holding Village. The new development is also a state-of-the-art community complete with "Fiber to Forest" technology available in all of its homes. Holding Village is a CenturyLink Fiber-Lit Community, and all homes will be equipped with an ultra-high speed Internet connection, capable of powering everything from computers to "smart" appliances.
Spacious Luxury Homes with a Decidedly Southern Style
Our community amenities and luxurious homes make Holding Village an ideal place to live for those looking to reside north of Raleigh, NC. With newly built homes and homes still under construction, Holding Village offers buyers the chance to create their custom dream home. Spacious floor plans, southern architecture and designs with front porches to encourage community connection are commonplace among the choices available in Holding Village, and each home will have the finishing touches and details you need for a luxury living experience.
As you search for new homes for sale, head a little farther north to Wake Forest. Discover Holding Village and the luxury living available just outside of the city in this newly built community.